London 2012 seeks backing from small and medium firms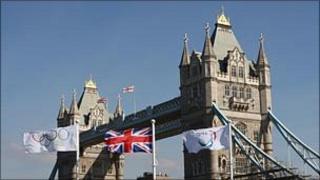 Small and medium-sized firms are being asked to support the Team 2012 fund, which is looking to raise £25m for the British Olympic and Paralympics teams.
It is hoped the dedicated Our Team 2012 project for small and medium companies will raise up to £15m to provide 1,200 athletes with training and equipment.
A total of 750 firms will be asked to pay up to £10,000 a year to take part in the two-year programme.
The programme launch comes two years before the 2012 games begin in London.
Employees of the firms taking part will get a chance to meet athletes, access to hospitality events, and tickets to major sporting events across the UK.
The firms will also enjoy networking opportunities in their own region, seminars, insight and training.
"Sports funding has always come from a mixture of exchequer, lottery and private sources," said sports minister Hugh Robertson.
And he said it was important, given the present economic situation, "to have business behind our athletes".
Mr Robertson also said that supporting the Olympics was within the reach of every small and medium-sized business in the UK.
The Team 2012 initiative aims to help Britain's 1,200 Olympic and Paralympic athletes for the London games by providing a third stream of financial support from the private sector, complementing the support already provided by government and the National Lottery.
It is a joint venture between the British Olympic Association, the British Paralympic Association, UK Sport and Locog.
Most funds raised through Team 2012 will be distributed by UK Sport through its World Class Performance Programme.
Funding is provided to athletes via their sport's governing body, in support of a performance programme that includes coaching, training and competition support, medical and scientific services and equipment and access to the best facilities.
Organisers say credit card firm Visa, a worldwide Olympics sponsor, has made "a major contribution" to the £25m target.