Singapore Airlines profits boosted by traveller demand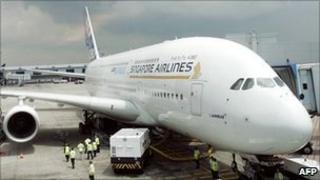 Singapore Airlines (SIA) made a first-quarter profit of 253 million Singapore dollars ($184.7m; £119m) for the three months between April and June.
The figure, which was above expectations, compares with a loss of S$307m for the same period a year ago.
SIA, the world's second-largest airline by market value, said the rebound was thanks to a rise in both passenger and freight traffic.
It said it expected this would be maintained in the near term.
Passenger numbers rose by 5.5% in the quarter, while the amount of cargo space filled rose from 60.6% a year ago to 65%.
The recovery came despite the volcanic ash cloud that caused havoc for air travel in April this year.
Singapore itself estimated it lost S$50m as a result of the eruption.
SIA said in a statement: "Advance bookings indicate that the year-on-year recovery in passenger carriage and yields evident in the quarter to June will hold up for the rest of 2010."
The International Air Transport Association (IATA) said this month that global airlines would collectively make $2.5bn in profit this year.