Rosneft profit boosted by tax break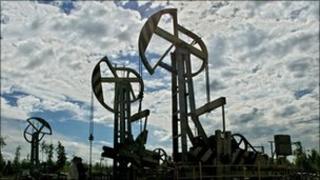 Rosneft, Russia's state oil giant, has reported a jump in profit thanks to a rise in output, higher oil prices and zero export duties for a key field.
Its net profit rose to $2.6bn (£1.7bn) in the first half of 2010 from $1.6bn a year earlier.
Revenue rose to $15.4bn from $10.9bn, and oil production increased by 9%.
Rosneft's tax saving from the Vankor field in the Arctic was $900m in the second quarter, according to Swiss investment bank UBS.
However, an export duty on oil from East Siberia was reintroduced earlier this month.
"The second half will be good and production will continue to grow, but we will be paying higher taxes," said Rosneft's vice-president Peter O'Brian.
"So with all else being equal I think it is fair to say profit on an after-tax basis will be reduced by between $400m and $500m."