Unite plans to take BA to court over travel concessions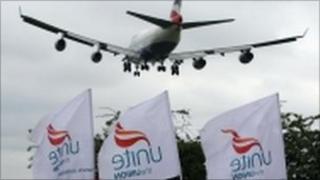 The Unite union says it is planning legal action against British Airways over the removal of travel concessions from cabin crew who went on strike.
Unite, which represents 11,000 cabin crew at the airline, said the management's action was a breach of European Human rights legislation.
It also believes the concessions were withdrawn without proper disciplinary procedures being followed.
The move follows the union's rejection last week of BA's "final" offer.
BA said it had acted properly in withdrawing the benefit.
"Staff travel is a non-contractual perk that the company can withdraw at its discretion," the firm said in a statement.
"Our cabin crew knew that if they took part in strike action, they would lose their staff travel perks.
"We totally reject the claim from Unite and will defend our position vigorously."
The dispute began over changes to working practices, but became more entrenched over so-called travel perks.
These entitled staff to a certain amount of discounted travel, which increased with service.
BA withdrew them from staff who went on strike.
It has offered to reinstate the perks of striking staff, but only at the level of new joiners - meaning staff would lose their length of service entitlement which gives them, for example, priority in a standby queue for discounted flights.
Extra help
In another move, Unite said it would provide additional assistance to support crew who have suffered particular financial hardship.
Unite's joint general secretaries, Tony Woodley and Derek Simpson, said: "Unite remains determined to secure a settlement to this dispute acceptable to cabin crew.
"We will continue to support our members financially and legally to ensure that every avenue is explored to achieve justice for these loyal and professional men and women who have been so badly treated by their employer."
Union leaders are planning to meet BA executives next week at the conciliation service Acas for further talks to resolve the still unsolved dispute, which has cost the airline £150m and disrupted 22 days of service.