Property prices soar in the desert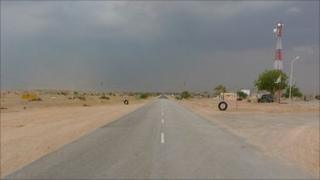 "I'm going to open up my own hotel," says Vijay Singh, a man who has just become $60,000 richer after selling some of his farmland; land that is barren desert.
India's thirst for solar energy has transformed Mr Singh's property from a dry, dusty inhospitable environment into a sun-drenched power socket that promises much, both for energy companies and for a country that still suffers black-outs.
The Thar desert spreads 200,000 square kilometres across North West India, and as Dr PC Pande from Rajasthan's Central Arid Zone Research Institute points out, sun is not in short supply.
"Here in this region we have plenty of solar radiation," he boasts. "It's full of sun. Three hundred plus days of sun a year, nine hours a day."
They will need it.
The government recently launched its National Solar Mission - a $19bn plan to generate 20,000 megawatt of solar electricity by 2022.
At the moment solar power contributes a tiny fraction of that - less than 1% - to the national grid.
An abundance of land
But it is not just the sunshine that is attracting government and private investors to Rajasthan.
The area is also abundant in something else that big power projects need - namely land.
"In this area, there's a lot of government land available, and a lot of private land also," says Multan Parihar from real estate agents Raj Landscape.
He has found Rajasthan a very good place to deal in real estate recently.
In the past six months, land prices in parts of the Thar desert have tripled.
"People don't do much agriculture here, it's a waste land. But it can be used for solar power."
The region's solar revolution is expected to get underway shortly when one of India's biggest energy companies - Reliance Industries - switches on its 5 megawatt solar plant in the nearby town of Khimsar.
Soaring energy demands
For the nation's business leaders, energy projects are a high priority if India's strong economic growth is to be continued.
"Manufacturing is directly related to energy," stresses Hari Bhartia, one of India's most successful industrialists, with an empire spreading across pharmaceuticals, energy and retail.
"I don't think you can build a manufacturing industry unless you have a stable energy supply. Energy is part of economic growth."
So, as someone who operates oil and gas fields in India, will Mr Bhartia be investing in some desert?
"No," he says.
"Today these solar projects are mainly driven through government subsidy. In the longer term these technologies need to become self sufficient"
Despite the caution of some, Mr Singh is confident a bustling city will emerge from the scrub land he once owned, and a steady stream of solar technicians will come to stay in his hotel.