Ford chief Mulally eyes future growth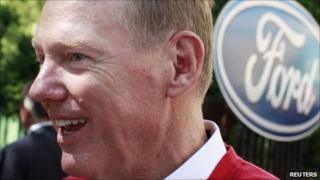 Visitors to Manhattan's Herald Square outside of Macy's department store would have had a shock on Monday.
Instead of metal tables and chairs on the hot tarmac, a little piece of the heartland came to Midtown Manhattan.
For the unveiling of its new 2011 Explorer, Ford built a tree-covered slope where models sat around a tent testing their fishing lines and riding mountain bikes.
The US car maker invited some of its dealers to get their first look at the newly revamped sports utility vehicle.
But perhaps no one was more excited then Alan Mulally.
After riding down the knoll in the vehicle, Ford's chief executive emerged grinning from the passenger seat.
Goodwill earned
And he has good reason to smile.
Last week, Ford reported its highest quarterly profit since 2004, having shipped 44% more cars and trucks in the US in the last three months than the same period last year.
The car maker has also benefited by shunning government money, unlike its neighbours in Detroit, General Motors and Chrysler.
"The goodwill that we have because we did not take precious taxpayer money," Mr Mulally says in an interview with the BBC. "I wouldn't trade our position with anybody."
Slow recovery
The new Explorer is being launched at a difficult time, when many people are still suffering economic hardship following the global financial crisis.
But the company still hopes customers will pay more - rather than less, as is usual in the motor industry - to have a four-cylinder Ecoboost engine in the car, rather than the standard, more powerful and thirstier six-cylinder engine.
Mr Mulally, whose company has gained market share on its home turf, remains cautiously optimistic.
"We see a gradual expansion of the economy this year and next year," he says.
"Having said that, this is the slowest recovery that we've ever had following a recession."
Social media
The Explorer ruled the road in America in the 90s.
But as tastes changed and petrol prices rose its sales plummeted, falling nearly 90% over the last decade.
During the presentation, Mr Mulally was keen to emphasise that the new model would be sold in 90 countries.
Perhaps he is keen to try to take advantage of some of the markets that he says are still doing very well.
"Asia Pacific is on fire," he says.
Ford decided to forgo traditional motor shows to unveil the new Explorer.
Instead it uses the social media website Facebook to promote it.
It seems the trees and dirt in Herald Square were not the only unusual thing about this launch.