Northern Rock finance boss banned for hiding arrears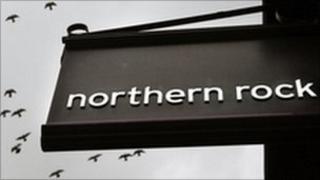 Northern Rock's former finance director, David Jones, has been fined and banned by the Financial Services Authority (FSA) for his part in the misreporting of mortgage arrears.
The FSA fined Mr Jones £320,000 and banned him from performing any function in relation to any regulated activity.
Mr Jones said the penalties were "unfair and disproportionate".
He is now the third former executive from Northern Rock to be banned and fined by the regulator.
In April, two others - the former deputy chief executive David Baker and the former credit director Richard Barclay - were fined a total of £650,000 by the FSA for failing to ensure accurate financial information.
'Pressure'
The FSA found that Mr Jones' misconduct started in mid-January 2007 when he agreed, along with David Baker, to allow false mortgage arrears figures to appear in footnotes accompanying the 2006 annual accounts.
As a result of these actions, Northern Rock left out almost 2,000 repossessions that were pending, but had not yet taken place.
Mr Jones stressed that he had co-operated with the investigation and accepted that he did not ensure that financial information was presented correctly.
But he said the FSA's judgement was too severe: "I consider that the FSA's conclusions and imposed penalty are both unfair and disproportionate."
The FSA said that, from 2005, Northern Rock staff were under pressure to report arrears at half the rate of rivals.
If they had reported correct figures, said the FSA, Northern Rock's arrears would have increased by more than 50%, or repossessions figures by about 300%.
But, crucially, it would also have given investors and depositors a truer picture of the health of the bank.
Mr Jones argued, however, that investors received sufficient information to assess Northern Rock's financial position.
Unsound
Northern Rock relied heavily on positive perceptions in order to attract the funds that catapulted it into becoming the UK's fifth largest lender.
But the credit crisis revealed it as unsound, and its near-collapse resulted in it being nationalised.
Margaret Cole, FSA director of enforcement and financial crime, said: "Jones had a duty to reveal the true position to the public and to important internal committees. He had numerous opportunities to put things right, but failed to do so.
"This is a message to all FSA approved persons, that they must take their individual responsibilities seriously at all times, or suffer the consequences."