Lloyds stops selling payment protection insurance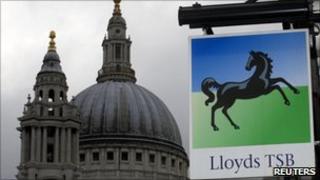 Lloyds Banking Group has stopped selling payment protection insurance (PPI) to customers who borrow money.
It is the first bank to respond in this way to long-running criticism of the policies and the way they have sometimes been mis-sold.
PPI is supposed to help people pay loans, mortgages or credit card bills if they fall ill or lose their jobs.
Its sale is now being restricted by the Financial Services Authority (FSA) and the Competition Commission.
Lloyds said it had stopped selling PPI polices last Friday, and the new policy would apply to customers of all its brands including the Halifax, Bank of Scotland and the Cheltenham & Gloucester.
"If people are interested in taking the insurance we will offer them a British Bankers' Association (BBA) leaflet about the insurance," a spokeswoman said.
Existing policies will stay in force and are unaffected by the Lloyds decision.
'Huge victory'
Martin Lewis of the consumer website Moneysavingexpert said he was "jumping for joy" at the Lloyds decision.
"This insurance, which has been scandalously mis-sold for years leaving many consumers in misery, is estimated to be worth up to £5bn a year for the industry," he said.
"It can provide useful protection to people if they are sick or lose their jobs as it covers their repayments, but people should go to competitive standalone insurers rather than banks.
"That's because they sell it at four or five times over the odds, often without checking suitability, meaning many have been duped into paying a hidden £1,000 extra on policies that are worthless for them."
The consumers' organisation Which?, a long standing critic of PPI, echoed that view and said it was the beginning of the end for PPI.
"Lloyds decision to stop selling PPI is a huge victory for consumers," said Which? chief executive Peter Vicary-Smith.
"Hopefully other banks will follow suit and we'll finally see the back of this poor protection product."
Regulatory action
After more than five years of complaints by consumer groups, and investigations by the Office of Fair Trading, FSA and Competition Commission, there has been growing pressure on banks who are the main sellers of PPI.
Significant changes have included:
The Competition Commission is in the process of introducing a complete ban on the sale of PPI polices at the point when when loans are made
In October 2009 mortgage lenders and insurers agreed to refund £60m to customers whose premiums for mortgage payment protection insurance went up in 2009
In September 2009 the FSA ordered banks and other sellers of PPI to reopen previously rejected complaints about mis-selling of the insurance, which could now number 500,000
The FSA also told banks and other lenders to compensate customers who may have been mis-sold PPI when selling the "single premium" version alongside unsecured personal loans. This is where premiums are added onto the loan as an upfront lump sum
In May last year, the FSA told the banks, and other lenders who sell PPI, to immediately stop selling single premium policies.
In the past year 30% of all new complaints that were submitted to the Financial Ombudsman Service (FOS) were about PPI.