UK retail sales grew sharply in July, CBI says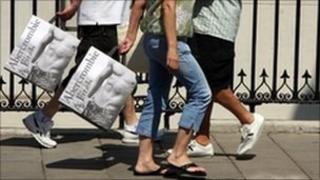 Sales on the High Street increased in July at the fastest pace since April 2007, the latest CBI survey of the sector has indicated.
Annual summer sales, the World Cup and warm weather all appeared to encourage trade, the business group said.
The areas with the strongest growth were grocers, clothing, and footwear and leather.
The Distributive Trades Survey, which covers 20,000 outlets, said sales were expected to keep growing next month.
It found 51% retailers reported higher sales than a year ago, with 18% seeing a fall.
The positive balance of 33% was three times higher than the 11% expected.
Lai Wah Co, the CBI's head of economic analysis, said: "Retailers are optimistic that strong sales growth will continue next month, which is promising.
"We still expect the recovery in overall consumer spending to be fairly restrained, however, given concerns about the impact of public spending cuts and weak prospects for real take-home pay in the coming year."