Bangladesh increases minimum wage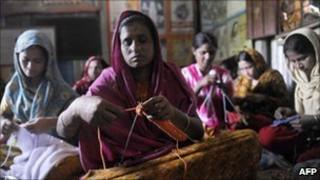 Bangladesh has raised the minimum wage for millions of garment workers, after months of violent protests over pay and working conditions.
The minimum wage will rise from 1,662 taka ($25; £15) a month, to 3,000 taka. The rate was last raised in 2006.
The new rate was agreed by the government's minimum wage board, which included union leaders and representatives from manufacturers.
Workers had been calling for the rate to triple to 5,000 taka a month.
Garments account for more than 80% of Bangladesh's exports.
Last month, 250 garment factories in one of Bangladesh's main manufacturing zones were shut down after demonstrations by workers.
Among those shut were ones supplying Walmart, H&M, Zara and Carrefour, manufacturers said.