LG Electronics profits slump by a third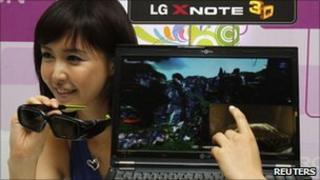 South Korean electronics firm LG Electronics has reported a slump in profits of a third as it struggles to keep pace in the smartphone market.
Net profit came in at 856.4bn won ($723m; £463m) for the three months to the end of June, down 33% on the 1.28bn won it made a year earlier.
Revenue was very slightly lower at 14.4 trillion won.
A strengthening won against the euro, which made LG's goods more expensive in Europe, also hit profits.
Smartphones
"I think LG Electronics hit the bottom this quarter, as it was a very difficult quarter for them," said Han Eunee at HI Investment & Securities.
"It's relatively behind other technology companies in terms of competitiveness, and it needs to find a way to gain market share in the smartphone and TV businesses in order to gain upward momentum in profitability."
Gaining a foothold in the rapidly-expanding smartphone market is key to improving performance, analysts said.
"Smartphones are the general trend of the market these days, but LG Electronics has been very weak on that end," said Park Jeong-Woo at Hana Daetoo Securities.
"With the smartphone market to expand even further in the second half of 2010, I would say that LG needs to follow in Samsung's footsteps and enter the smartphone business as soon as possible, otherwise it will not be able to see a profit recovery very soon."