Peugeot Citroen returns to profit on China demand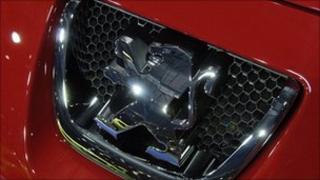 French car giant Peugeot Citroen has reported a return to profit in the first half of the year, driven by strong demand in China and new models.
Net profit came in at 680m euros ($885m; £567m) for the six months to the end of June, compared with a loss of 962m euros a year earlier.
Revenues increased by 21% to 28.39bn euros.
The carmaker also said it would likely be selling more than half its cars outside Europe by 2015.
"The group is now well on track to rebuilding sustainable profitability with strong first-half results driven by market share gains," said Philippe Varin, Peugeot's chairman.
Asian sales
Mr Varin also highlighted the carmaker's joint venture with Changan Automotive of China, agreed in May.
The 50-50 joint venture will produce 200,000 vehicles initially in Shenzhen, southern China, starting in the second half of 2012.
The deal is part of Peugeot's plan to increase sales outside Europe.
It has an existing venture with Dongfeng Motor Group in China, where car sales rose 50% in the first half of the year.
China is seen as an increasingly important market for global carmakers, which suffered massive declines in demand in Europe and the US during the global downturn.