Arcelor Mittal profits up as demand for steel rises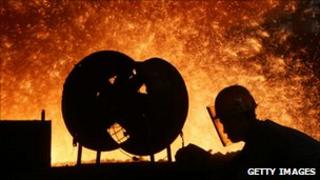 Steel giant Arcelor Mittal has reported a big jump in profits between April and June, with sales up as the global economy continues to recover.
Net profit was $1.7bn (£1.1bn), compared with a loss of $792m in the same period a year earlier and a profit of $679m in the previous quarter.
Revenue for the period rose by 43%, from $15.2bn to $21.7bn.
However, the company said the economic slowdown in China would hit earnings in the next three months.
It also said it was discussing the idea of spinning off its stainless steel business into a separate entity.
'Economic slowdown'
"The improved performance in the second quarter is in line with our expectations and reflects the continued slow and progressive recovery," said Arcelor Mittal's chairman Lakshmi Mittal.
"Although the third quarter will be impacted by a combination of seasonal factors and the effects of the economic slowdown in China, underlying demand continues to show improvement."
Commenting on the possible spin-off, Mr Mittal said: "We believe that the creation of a separately focused company will create additional value for all shareholders."
Arcelor Mittal is based in Luxembourg and is the world's largest producer of steel.