House prices 'now at 2006 levels'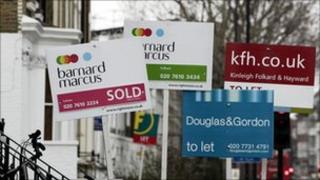 House prices in England and Wales are now at similar levels to those seen in the summer of 2006, according to the Land Registry.
However, property values crept up by just 0.1% from May to June, taking the average cost of a house to £166,072.
Prices were 8.4% higher than a year ago - the eighth consecutive month that there has been a year-on-year rise.
Various commentators have suggested that house prices are likely to remain relatively static in 2010.
The Land Registry's survey is widely regarded as the most authoritative, although it only covers England and Wales.
Regional breakdown
All regions of England and Wales have seen average property prices rise in the year to June, the Land Registry said.
The highest increase was in London - up 12.2% - with the smallest in the North East of England - up 0.7%.
However, the North East has seen typical house prices drop by 1.3% in the month from May to June. The highest month-on-month rise was in Wales, up 2.9%.
Over the last year, the value of semi-detached homes has accelerated faster than other types of property, up by 9.6%, ahead of detached homes, up 9%, and flats, up 8%.
The latest figures from HM Revenue and Customs show that the number of homes sold in the UK in June rose by 21% from May to 86,000. The sales figures were the highest this year and were up 15% on the same month last year.
A general rise in house prices, which started in the spring of 2009, seems to have reached a plateau this summer, according to the most recent surveys from the Nationwide building society and the Halifax bank.
Forecasts
Extra austerity measures could reduce people's confidence about buying homes, according to Howard Archer, of IHS Global Insight.
"The only marginal house price rise in June reported by the Land Registry maintains our belief that house prices will fall back over the latter months of 2010 and very likely soften further in 2011," he said.
In real terms, house prices could fall by 8% from now to 2015, according to a report by the National Institute of Economic and Social Research (NIESR).
"While we have assumed the housing market remains stable, there remains the risk that house prices in the UK could decline at a more rapid pace," the report said.
"By 2015, real house prices are expected to fall back only to the level of 2003."
A separate forecast published earlier this months by accountants PricewaterhouseCoopers suggested that house prices might not reach the levels seen at the peak of the market for another decade.