Russia in $30bn asset sale plan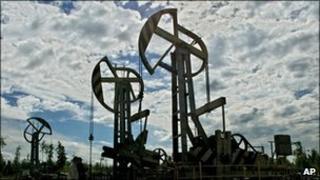 Russia has announced plans to sell minority stakes in 11 state-run firms which it says could raise about one trillion roubles ($30bn; £19.2bn).
The part-privatisation scheme, its biggest since the 1990s, is set to begin next year and will include Sberbank and its oil firm Rosneft.
But state railways operator RZhD will not be included, said Alexei Uvarov of the economic development ministry.
Russia has been looking for ways to plug its budget deficit.
Controlling stake
For the past decade, Russia's policy has been to avoid the privatisation of state-owned firms.
Under the change of policy, energy pipelines operator Transneft, state bank VTB and hydroelectric power operator Rushydro will also be partly sold off.
Mr Uvarov did not give details on the size of the holdings which would be made available.
All of the firms have already been part-privatised to a very limited extent. This will be extended, but Russia would keep a controlling stake in all the firms under the plan.
The country's budget deficit ballooned during the economic crisis after years of surpluses in the good times.
Prime Minister Vladimir Putin said on Wednesday that this year's deficit was likely to stay above 5% of gross domestic product (GDP).
After several years of robust growth, Russia's GDP fell by 7.9% last year.