Lufthansa hurt by ash and pilots' strike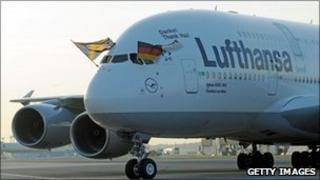 The owner of Europe's biggest airline, Lufthansa, has reported a net loss for the first half of the year after disruption from the volcanic ash cloud and from a pilots' strike.
The Lufthansa Group reported a loss of 104m euros ($136m; £87m), although this was an improvement on the 178m-euro loss it made a year ago.
Revenues rose 24% to 12.6bn euros.
The group also faced costs from the integration of new acquisitions Austrian Airlines and UK carrier BMI.
The loss was largely due to a weak first quarter, as the group said it made an operating profit of 159m euros in the April to June period.
It added that there was a "noticeable recovery" in first and business class bookings
"On the one hand, the result of the first half-year reflects a positive demand trend, above all in the freight and intercontinental passenger businesses," Lufthansa said in a statement.
"On the other, it includes adverse effects such as rising fuel prices and the first-time consolidation of Austrian Airlines and BMI, as well as non-recurring factors like the extreme winter, the strike by cockpit staff, and airspace closures in April as a result of the volcanic eruption in Iceland."
Shares in Lufthansa Group were down 45% in Thursday trade.