BT profits from cost cutting as revenue falls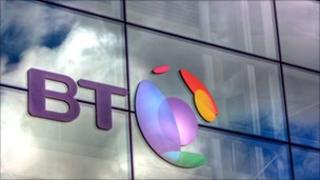 BT has reported what it describes as "acceptable" quarterly results, with profits sharply higher despite a fall in revenue.
Cost cutting helped the telecoms giant record a profit of £375m for the three months to the end of June, up 38% on the £272m it recorded a year earlier.
Revenue came in at £5bn, down slightly on the £5.2bn it posted a year ago.
BT also announced that its pension deficit had shrunk, to £6.6bn from £9bn at the end of 2008.
This was due to the recovery in stock markets and the first instalment in BT's commitment to pay £525m a year towards reducing the deficit, the firm said.
Earlier this month, BT agreed a pay deal with unions to avert threatened strike action.
The agreement will see BT workers receive a 9.3% pay rise over 39 months - with the two sides having failed to reach an agreement on a one or two-year deal.
Sports packages
Investors welcomed the quarterly results, with BT shares closing up 3.2% on Thursday.
"We have made an acceptable start to the year, delivering improved financial results while investing in the future of the business," said Ian Livingston, BT's chief executive.
"In TV we are offering great value premium sports packages and can now compete on a more even playing field."
Last month, BT signed a deal with Sky that will allow BT Vision customers to watch Sky Sports 1 and Sky Sports 2.
Customers will be able to view the channels from 1 August, in time for the start of the domestic football season.
BT also said it had now rolled out fibre optic cabling to 1.5 million households, with an additional 100,000 homes being added every week.