AstraZeneca shares rise on strong results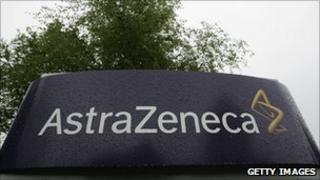 Shares in AstraZeneca have risen almost 3% after the drug company reported a rise in profits and revenue thanks to strong sales of key drugs.
Pre-tax profit for the three months to the end of June rose to $2.9bn (£1.9bn), up 12% on the $2.6bn it reported for the same period last year.
Revenue also rose slightly, to $8.2bn from $8bn a year earlier.
The strong performance meant the company raised its profit forecast for the full year.
News that a key new drug - the blood thinner Brilinta - had been cleared by an advisory committee of the US Food and Drug Administration on Wednesday evening also helped to boost AstraZeneca's share price.
Legal victory
"Our second quarter performance reflects continued strong growth in our emerging markets and good performance for key brands Crestor, Seroquel and Symbicort," said the firm's chief executive, David Brennan.
While US revenue dropped by 4%, revenue from the rest of the world grew by 5%, largely due to a 16% rise from emerging markets.
Sales of key cholesterol drug Crestor were particularly strong, rising by a quarter compared with a year earlier.
Last month, AstraZeneca won a three-year US legal battle to protect a patent on the popular drug, which means cheaper, generic versions of the drug cannot enter the US market until 2016.
All major drug companies are facing the threat of generic drugs, and are prepared to protect their patents fiercely in order to defend their market share.