Russians fear pensions timebomb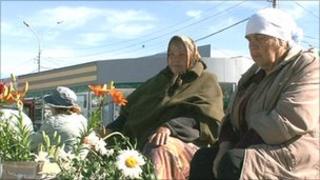 A timebomb is ticking in Russia's pension system - but it is unpopular to talk about it.
It is lunchtime on a sunny Siberian summer's day, and the mums are out in force in Novosibirsk's central park.
The talk in the playground is about the heatwave that is plaguing the rest of the country and the lack of pre-school places.
But there are also more fundamental concerns about the burdens that the next generation will have to carry one day.
"I'm worried, very worried, because I think our grandchildren will not get any pension at all," says one woman who is looking after her two grandchildren playing in the sand.
"I think the pensions system will cease to exist. You will have to rely on whatever you can save yourself."
Some would say you have to rely on yourself even now.
At 61, Vladimir Kaiser still goes to work every morning. He could have retired last year, but decided to stay on in his old job as an engineer at a machinery tools factory.
"I will work another five to eight years if I stay healthy," he says.
The reason? His pension - at 8,000 roubles ($265; £170) a month, just above the national average - is just not enough to live on.
Work until death?
What does Vladimir make of Finance Minister Alexei Kudrin's recent suggestion that the pension age would have to go up from the current 60 for men and 55 for women, in order to maintain pensions at what he called "respectable" levels?
"I don't think that's a good idea, because male life expectancy is so low," he says.
It stands at just over 61 years at the moment - so for many men, working longer would mean working until they die.
But then that is already the reality for some. Nearly a third of retirees in Novosibirsk continue to work beyond the pension age to make ends meet.
There are those like Vladimir who continue to work full-time in their old jobs. Others work as security guards, for example.
And then are the old women you see everywhere, selling flowers and strawberries outside train stations and supermarkets - many of them left with only tiny pensions.
During the economic crisis, the government decided to increase retirement payments in order to avoid social tensions - but that has put even more pressure on an already strained system.
Demographic problems
The State Pension Fund has been criticised for low returns and inefficient management.
Earlier attempts to amend the current Soviet-era system by introducing private pension funds have largely failed.
This year alone, the government will have to spend some 1.15 trillion roubles to plug the hole in the pension system. And that deficit will keep growing, because Russia's population is shrinking fast.
Today, for every pensioner, there are 1.7 people who pay into the system - already a very low figure compared with other countries.
Two decades from now, there will only be one worker for every pensioner - a demographic timebomb.
The government acknowledges there is a problem, but some local officials do not.
At the Novosibirsk branch of the State Pension Fund, one official we interviewed claimed that there was no deficit in the pension system.
'Radical changes'
Russia's vast income from its oil and gas resources has so far enabled it to cover whatever gaps have arisen in the pensions budget. But most economists agree that is unsustainable.
Nadezhda Vavilina, a pensions expert and president of the New Siberian University in Novosibirsk, says it is time for more radical changes.
"The State Pension Fund should move away from being just a collector of pension contributions to introducing personal pension accounts."
It should be responsible for every person's pension account, just as a bank is for bank accounts, she says.
"That means making sure this money is protected and there is an opportunity for it to grow further and to be responsible for it and to guarantee it," adds Ms Vavilina.
Changing the system will be difficult - and controversial.
But to ensure today's children will still get a pension when they retire, the government needs to find the political will to defuse the pensions timebomb.