China allows release of IMF report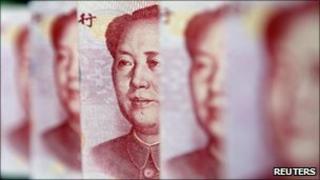 China has allowed the publication of an International Monetary Fund (IMF) staff report for the first time since 2006.
China had previously blocked the annual report's release because it objected to the IMF's view that its currency, the yuan, needed to be a lot stronger.
The report contained some criticism, saying "several directors agreed that the exchange rate is undervalued", but added that others disagreed.
However, it has been suggested that the report has been toned down.
The Reuters news agency said that the final report omitted a staff estimate, contained in a draft version, that the yuan was between 5% and 27% undervalued.
Many commentators believe that China manipulates its exchange rate to give it a competitive advantage, keeping its value low in order to boost its exports.
The European Union and the US have both called for China to allow its currency to strengthen, and last month Beijing took its first step toward making the yuan more flexible, when its central bank raised the centre point of the currency's official trading band.
"I would hope to believe the fact that the Chinese decided to release the staff report reflects a view on their part that the report was balanced, was fairly reflective of their views as well as the staff's views and the overall picture... was even-handed," said the IMF China mission chief Nigel Chalk.
China has not been the only country to refrain from publishing the IMF's staff report. According to a review of the IMF's transparency policy in 2009, about 88% of reports are published.