UK beer sales in first rise since 2006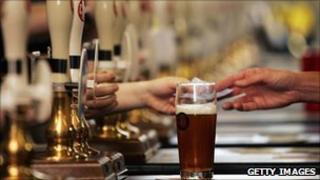 Football's World Cup is thought to have given a boost to UK beer sales, industry figures suggest.
The equivalent of more than 2.2 billion pints was sold between April and June - up 2.9% on last year, the British Beer and Pub Association (BBPA) said.
This meant quarterly sales were up on 12 months ago for the first time in four years.
Growth was driven by demand at shops and supermarkets, up 4.4%. But sales in Britain's pubs fell by 6.3%.
Turn a corner?
The UK Quarterly Beer Barometer suggested good weather as well as the World Cup tournament in South Africa, which saw England exit in the last 16, helped bring the best sales in the April to June period since the fourth quarter of 2008. This was also the first quarterly rise since 2006.
Beer sales grew by 625 million pints compared with the first three months of the year, and were up by 63 million pints on the April-June period last year.
"The World Cup has certainly been a benefit to Britain's beer sector and we can now hope that the market is starting to turn a corner," said BBPA chief executive Brigid Simmonds.
"However, while there is some reason for cheer, it has to be noted that beer sales in pubs are still falling and the nation's pubs need support."
The BBPA called on the government to freeze the tax on beer and support pubs "recognising the economic and social contribution of these vital community assets".
The figures come ahead of the Great British Beer Festival, held at Earls Court in London next week.