Toyota announces fresh car recall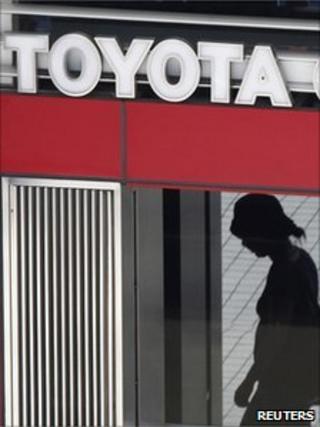 Toyota is recalling almost 430,000 vehicles in the US and Japan amid concern over steering problems.
Most of the cars involved are Avalon models made between 2000 and 2004.
It said a problem with a component of its steering system could potentially lead to a crash if the steering wheel locked - but added no accidents had been linked with the issue.
It follows the recall of more than 8m vehicles in February over problems with sticking accelerator pedals.
Recalls in the car industry are common - and this month alone the US transport safety body has issued them for firms including Ford, Daimler and Volvo.
However the extent of Toyota recalls is unprecedented. The firm has now issued 14 recalls in 2010.
'Working diligently'
Besides the US recall of the Avalon models, in Japan about 6,750 vehicles called the Pronard, built between February 2000 and January 2004 are being recalled.
A different steering shaft problem has also led to 39,000 Lexus 470s being recalled in the US and 9,670 Land Cruiser models in Japan.
"Toyota is continuing to work diligently to address safety issues wherever they arise and to strengthen our global quality assurance operations so that Toyota owners can be confident in the safety of their vehicles," said Steve St Angelo, Toyota chief quality officer for North America.
Toyota was fined $16m in the US for its slow response to this year's sticking accelerator pedal fault.
Earlier this month it said it was to recall 270,000 cars worldwide - including seven luxury Lexus models - because of an engine fault.
And in May it recalled 3,800 Lexus vehicles, again over steering problems.