Airbus owner EADS upbeat on future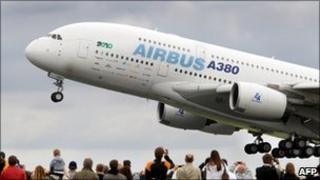 EADS, parent of plane-maker Airbus, has said it is confident that it is over a two-year dip and says it is "more comfortable for the full year now".
Its comments came as it reported a 61% fall in second-quarter earnings to 82m euros ($107m; £68m).
However, Airbus now hopes to capture more than 400 gross orders this year - up 100 on its previous forecast.
It comes a day after rival Boeing said that a 21% fall in its second-quarter profit could lead to layoffs
Currency impact
Airbus plans to increase production of its single-aisle A320, with a production target of 40 planes a month by 2012, from 34 at the moment.
EADS chief executive Louis Gallois said there were now "clear signs of improvements" in the aircraft environment, and said Airbus had "exceeded expectations" at the recent Farnborough airshow.
There, Airbus won firm orders for 133 aircraft valued at more than $13bn at list prices.
EADS put the drop in its quarterly profits down to a deterioration in its hedging position - contracts designed to lock in currency rates and protect the company from foreign-exchange fluctuations.
Although a weaker euro helps Airbus and its exports, EADS is locked into hedging contracts that were made when the euro was stronger.
Like Boeing, EADS is pessimistic about future defence contracts.
"We continue to look at the defence spending environment in Europe with concern," Mr Gallois said.
Mr Gallois also said that other priorities for the year included improving efficiency of its superjumbo A380 programme, which is dragging on profits.
The firm also wants to progress with the finalising of re-negotiated contracts for the troubled A400M military transport programme.