Northwest Airlines agrees to pay $38m price-fixing fine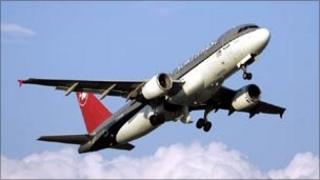 Northwest Airlines is to plead guilty and pay a $38m (£24m) fine for its role in fixing air-cargo prices, the US Department of Justice has said.
The department said as part of a plea deal Northwest would co-operate with an ongoing anti-trust investigation.
Northwest Airlines Cargo, which is no longer operating, conspired to fix air-cargo rates from July 2004 to February 2006, the department added.
Northwest was taken over by Delta Air Lines in a £1.7bn deal in October 2008.
Northwest has agreed to plead guilty to a single offence, said the DoJ.
So far a total of 16 airlines have pleaded guilty or agreed to do so in an ongoing investigation into price-fixing in air cargo, it added.
More than $1.6bn in criminal fines has been paid by airlines, and four executives have received prison sentences.