Fresh BA cabin crew dispute talks adjourned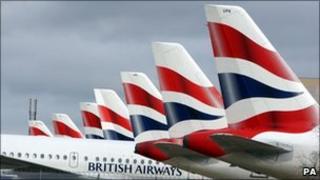 British Airways and the Unite union have opened and closed a new round of talks to try to prevent further strike action, and will meet again next week.
Talks were held under the supervision of mediation service Acas but adjourned without agreement.
"There was a short meeting at Acas and there are plans to meet again next week," a BA spokesman said.
The union has threatened to ballot for further strikes starting in September.
Although members of the Unite union rejected the airline's "final" pay offer last month, BA has said this would still form the basis of any deal.
But Unite's joint leader Derek Simpson has said there is no sense in the airline "maintaining this dispute".
Monday's talks were the first time the two sides had been involved in formal negotiations since Unite members rejected BA's offer of a 2.9% pay rise next year with 3% the year after.
Earlier in the day Unite sources told the BBC that there was little to suggest the airline had changed its position in the dispute.
Training volunteers
BA chief executive Willie Walsh has said BA is continuing with contingency plans to deal with any additional walkouts, and that the airline was confident of running all long-haul flights on strike days.
"We continue to train volunteer cabin crew and that programme is going very well," he said.
"I want to reach a resolution but we are preparing for further industrial action."
But Mr Simpson has said questions must continue to be asked "about the direction of BA's management".
"It is never our intention to see BA struggle," he added.
"We would far prefer to see it thrive and the way to ensure this is to settle peacefully with cabin crew."
Substantial losses
Last week BA reported a pre-tax loss of £164m for April to June, as a result of the strikes and flight cancellations caused by the volcanic ash cloud.
The industrial dispute started last year over BA's plans to cut costs by reducing the number of cabin crew on aircraft, but the row intensified after the airline withdrew travel concessions from staff who went on strike.
Relations worsened after BA took disciplinary action against union members as a result of the dispute, including a number of sackings which Unite now says have reached double figures.
So far the Unite members have held 22 days of strike action since March.