BNP Paribas profits boosted by retail banking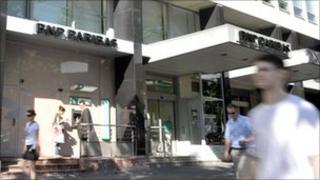 French bank BNP Paribas has seen its second-quarter profit grow, thanks to gains in its retail banking division offsetting declines in its investment banking operations.
Net profit for the three months to July rose 31% from a year earlier to 2.1bn euros ($2.7bn; £1.75bn).
Retail banking saw "huge revenue growth" driven by strong demand for mortgages, BNP said.
But revenues at its investment banking division dropped 30%.
BNP was one of 91 European banks to undergo EU stress tests last month, designed to assess banks' ability to withstand future financial crises. It and 83 others passed the tests.
"[BNP's] robust model combined with its sound balance sheet and quality assets helped the group successfully pass the stress tests, maintaining a buffer of over 20bn euros in equity compared to the minimum deemed necessary by supervisors to endure a worst case scenario," BNP said in a statement.
The group also said that it was looking to gain market share in Europe and the Mediterranean, and would be aiming to drive growth in the US, where it owns BancWest.