Alan Greenspan: US 'risks double-dip recession'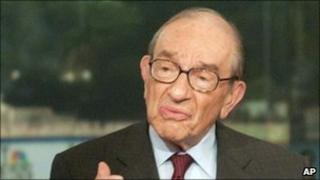 Former chairman of the US Federal Reserve, Alan Greenspan, has warned that the US economy could be heading towards a double-dip recession.
There is currently a "pause" in the US recovery, he told US television, so that it feels like a "quasi-recession".
When asked if the US could fall back into recession, he replied, "It is possible."
Mr Greenspan served as chief of the Fed from 1987 until his retirement in 2006, when he was replaced by Ben Bernanke.
His policy of keeping interest rates low has been criticised by some for helping fuel the expansion in the sub-prime mortgage market which contributed to the credit crunch.
'Broke system'
"We're in a pause in a recovery, a modest recovery but a pause in the modest recovery feels like a quasi-recession," he told NBC's Meet the Press programme.
When asked about the chances of another recession, he said: "It is possible if home prices go down. Home prices as best we can judge have really flattened out in the last year."
Mr Greenspan also forecast unemployment to remain at its current level of 9.5% for some time.
"The financial system is broke and I see we just stay where we are," he said. "There's nothing out there that I can see which will alter the level of unemployment."
The latest monthly US unemployment figures will be released by the Labor Department on Friday.