Mortgage deals still being rationed by lenders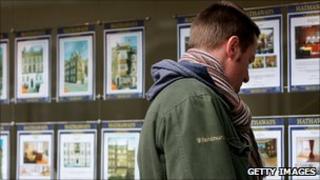 Mortgage lenders continue to ration the size of their loans to home buyers and people remortgaging.
The number of deals on offer has risen by 66% this year, from 1,414 in January to 2,351 now, says the financial information service Moneyfacts.
But 58% of the deals available still require a downpayment of at least 25% of the value of the home being bought.
And the proportion requiring only a 10% deposit still stands at just 8% of all the mortgages currently on offer.
"There has been no real movement in the overall number of new mortgages available on the market [in the past month], but those that are available continue to be more competitive," explained Michelle Slade of Moneyfacts.
"Many of the best deals are now available for a 25% deposit, having previously only been available for those with a 40% deposit."
Lower rates
Although there has been little change this year in the proportion of mortgage deals requiring smaller deposits, the average interest rate being charged on them has drifted down.
The average two-year fixed rate deal now comes with an interest rate of 4.5% compared to 4.9% in January.
Three-year fixed rates now cost on average 5.2% instead of 5.5% at the start of the year, and five-year deals now cost 5.6% instead of the 6.1% charged in January.
However these figures disguise the very wide difference in the interest being charged according to the size of the deposit being put down.
According to Moneyfacts, a two-year fixed deal with just a 10% deposit comes with an interest charge of 6.2%, but a 25% deposit brings that down to 4.1% while a 40% deposit attracts an interest charge of just 4%.
Demanding deposits
According to statistics from the Council of Mortgage Lenders (CML), the average first-time buyer is now putting down a deposit of £35,000 to buy a home.
Aaron Strutt, of mortgage brokers Trinity Financial, said there were only four deals on general offer with just a 5% deposit.
And deals from the big banks with 10% deposits were often very expensive.
"RBS have one of the worst rates available for first-time buyers with a 10% deposit - 6.89% fixed for five years," he said.
"You would have to be really desperate to take this rate," he added.