TNT to split mail and express units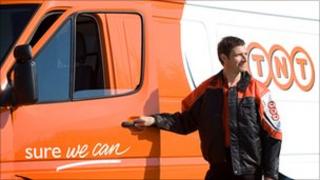 Dutch delivery group TNT has said it is going to split its Mail and Express units into separate companies.
TNT said it would start running the two as separate businesses by next year. A decision, which could include a sale or flotation would then follow, "subject to further exploration".
The announcement came as TNT reported a second-quarter profit of 3m euros (£2.5m).
This was a massive fall from the 81m-euro profit it made a year ago.
TNT said it was hit by "significant one-offs", including a charge of 168m euros related to job cuts among its full-time mail workers.
The news that the businesses will be split will fuel speculation that the express operations could become a takeover target for US rivals FedEx and UPS.
Shares in TNT fell by 3.69% in Monday trading.