Blackberry ban in the Gulf states: Your views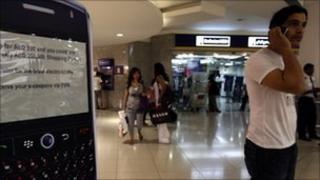 Two Gulf states have announced bans on some functions of the Blackberry mobile phone, claiming security concerns.
The United Arab Emirates is to block sending e-mails, accessing the internet, and delivering instant messages to other Blackberry handsets. Saudi Arabia is to prevent the use of the Blackberry-to-Blackberry instant messaging service.
People in the region have been emailing the BBC in reaction. Here is a selection of some of their comments.
Against the ban:
I don't personally own a Blackberry, but my daughter uses one, so she will be directly affected as she will not be able to access BlackBerry's instant messenger or Facebook. I'm affected as a resident as it is just one more example of the government clamping down on freedom and invading one's privacy, under the guise of it's 'judicial, social and national security' concerns. What a load of rubbish. It just adds to the general disgust felt by many expats here, and leads one to wonder what's next. JC, Dubai, UAE
TRA and Etisalat could justify their actions any way they please. However, it sickens me when they wave the "protection of national security" card. The truth is fairly obvious: there is a reason why telecommunications in the UAE are regulated and monopolised by the government. This is 1984 once again and Blackberry possess a threat to Big Brother for he can no longer scrutinise people's personal lives and infringe on their privacy the way that he always used to. Aamer, in Abu Dhabi, UAE
This just shows how small-minded the UAE government is. They will continue to make decisions that make their country a laughing stock around the world. Will their government-owned telecom companies compensate Blackberry users for handsets and costs? John Luce, Dubai, UAE
I am a network and systems administrator for my company. I'm currently on a business trip to the UAE to deploy a new server. Some of the personnel working for my company use Blackberry handsets, and are already asking to be switched to a different handset for fear of losing vital mobile services. Abu Dhabi suffers from only having one company (Etisalat) offering telecoms and internet services. The consequence of having no real competition to that service is appalling. It takes weeks and weeks to get anything done, and costs an absolute bomb. It is also extremely easy for intermediate-level users and above to bypass. Whatever blocking system the UAE tries to establish, you can bet people will find ways around it anyway. An exercise in pointlessness, then. Luke, Abu Dhabi, UAE
Agree with the ban:
Though I only bought a Blackberry two weeks ago, I completely support the ban. No private company should dictate to countries. I hope India and other gulf countries would follow UAE and Saudi. We are connected here. Blackberry's instant messenger, browser and e-mail system is not 21st century. Nokia provides much better solutions and of course Apple is there to fill the gap. Mudassir Iqbal, Jeddah, Saudi Arabia
The UAE has the right to have control over the use of Blackberry services so that it can make sure that its national security is not under threat. Personally, the decision by TRA [UAE's telecoms regulator] will affect the way I communicate, but I am also concerned if the authorities say it is for security. BlackBerry's owner should have obeyed TRA's directions, as they need this small wealthy and lucrative market. Ahmed Shino, Dubai, UAE