World stock markets lifted by banking shares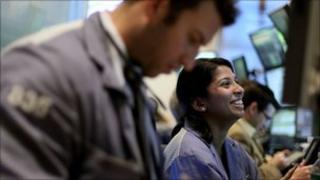 World stock markets have been trading higher, lifted by banking shares after HSBC and BNP Paribas both reported profits ahead of expectations.
The UK's biggest bank HSBC saw first-half profits more than double to $11.1bn (£7bn), while second-quarter profits at France's BNP rose 31%.
In London, the FTSE 100 was up 2.65% to 5,397. Shares in HSBC, Lloyds and RBS were ahead by 5.26%, 3.88% and 4.28%.
France's Cac 40 was up 2.99%, while the Dow Jones was up 2% at close of trade.
BNP was among the top gainers in Paris, up by 5.27%.
Germany's Dax index was also up 2.34%.
Rising oil price
Manufacturing data also helped boost sentiment.
The Markit Eurozone Manufacturing PMI rose to a three-month high in July.
The stock market rally also gave crude traders optimism, with oil rising above $80 a barrel.
Benchmark crude was up $2.44 to $81.39 a barrel in electronic trading on the New York Mercantile Exchange.
In London, Brent crude was up $2.78 to $80.96.