Train passenger numbers rebound following recession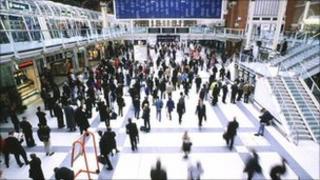 Train passenger numbers, which are seen as an economic barometer, have returned to levels of growth not seen since the recession began in 2008.
Passenger numbers for the first half of the year were 5% higher than the same time last year, the Association of Train Operating Companies (Atoc) said.
A total of 681 million passengers travelled between January and June, up from 648 million a year earlier.
Atoc said the figures were "hugely encouraging" for the economy.
"All sectors of the railways performed well during the first half of the year, but the turnaround in London and the South East is particularly marked," said Michael Roberts, chief executive of Atoc.
"But it is vital that we don't take the nation's fragile recovery for granted. The threat of the economy slipping back into recession remains real and serious," he added.
Train companies saw sharp falls in passenger numbers during the depth of the recession, with numbers down as much as 3.3% in the third quarter of 2009.
Passenger numbers began growing again in January, and Atoc said it expected numbers to double over the next 20 years.