Newsweek magazine is sold by Washington Post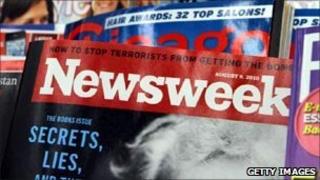 The Washington Post is to sell Newsweek magazine to Sidney Harman, 91-year-old founder of audio equipment firm Harman International Industries.
He won Newsweek in an auction that included Fred Drasner, ex-publisher of the New York Daily News, and OpenGate Capital, owner of TV Guide.
It brings to an end nearly 50 years of the Post owning the US weekly news magazine.
The magazine has been losing money in recent years.
It also lost nearly $11m during the first quarter of this year.
"In seeking a buyer for Newsweek, we wanted someone who feels as strongly as we do about the importance of quality journalism," said Donald Graham, chief executive of the Washington Post.
The size of the deal was not revealed but the newspaper publisher is retaining the pension assets, liabilities and certain employee obligations of Newsweek.
The magazine, which has about 300 employees, was put up for sale in May.
Like many magazines across the world, Newsweek has struggled during the downturn with falling advertising revenue.
It has also suffered as readers increasingly rely on free online news.
Newsweek was launched in 1933 and was bought by the Post in 1961.