Lotus gets ready for multi-model launch
By Jorn Madslien
Business reporter, BBC News, Hethel, Norfolk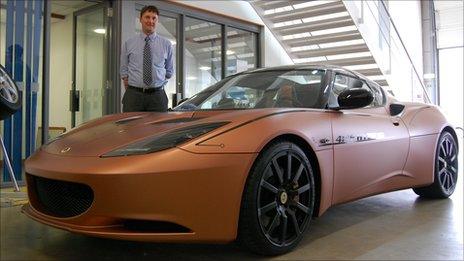 The line-up of cars outside the Lotus headquarter in Hethel showcases its heritage as a sportscar company. Inside, in a large garage, lies the company's future.
This is chief engineer Steve Doyle's domain.
His role - head of hybrid and electric vehicle integration - is a clear indication of where Lotus is heading.
"The world has changed," Mr Doyle says as he strokes a concept car parked under a steel staircase, "from engine performance enhancements to engine performance and economy, reducing carbon dioxide emissions."
Lotus is pretty tight-lipped about what its plans are these days, though it is clear its ambitions are great.
"There's going to be a lot happening at Paris," Mr Doyle says - though exactly what it will unveil at the biennial motor show in October remains secret.
"We're going to expand the model range quite significantly," Mr Doyle says.
The car world is awash with rumours about what Lotus will do and if expectations are met it will certainly create waves.
Lotus is expected to unveil four new concept cars, a notable number given that nothing significantly new has come from the company in more than a decade, with the obvious exception of the recently launched four-seater Evora.
The concepts expected to be on display at the Paris motor show are said to be a mixture of "Old Lotus" and "New Lotus".
"Old Lotus" models might include an updated and perhaps more comfortable version of the Lotus Seven, which was built between 1957 and 1972, as well as a new version of the Esprit supercar, which was built between 1976 and 2004.
Both models could hit the road as early as 2012 and thus bring in much needed revenue quite quickly.
"New Lotus", meanwhile, is expected to be showcased in the form of two petrol-electric hybrids - one with two doors, another with four. Both would be based on the modular chassis of the Evora 414E concept that was unveiled in March at the Geneva motor show.
The hybrids would be kitted out with a three-cylinder petrol engine that Lotus has designed as a so-called range extender - namely an engine that kicks in once the cars' batteries run low in order to power electric motors that in turn drive the wheels.
Mr Doyle declines to comment on the rumours, though he does point out that "the Lotus platform is ideal for electrification - it's already lightweight and it's already a niche manufacturer".
Attractive engineering skills
Albeit significant in its own right, Lotus is not merely preparing for a new model onslaught of a kind not seen for decades.
It has also recently returned to Formula 1 motor racing after a 15 year absence, and with the blessing of its Malaysian owner Proton it is channelling vast investment into new technologies.
"They very much let us get on with it," says Mr Doyle.
Much of the technology is expected to be incorporated into new cars made by volume carmakers, which are happy to pay handsomely to take advantage of the UK company's engineering skills.
"Everyone says 'Lotus, you make cars', but the engineering side of the business is also very important," Mr Doyle says, pointing out that 70% of the revenues earned by the engineering division comes from external clients.
"We do a lot of work for the [mainstream carmakers] by taking their models and improving their handling [and] we've done various electric cars and hybrids for people," he says.
One promising area of research involves the sounds cars make.
Lotus has carried out research into noise cancelling technologies that should help make cars more refined, though it has recently realised that a by-product of its investigations has been its ability to make cars make the right type of noise.
As cars are made lighter and as they are fitted with smaller, more efficient engines, some drivers say they long for the sounds made by sportscars in the past. Lotus has come up with a solution.
"You could make your four-cylinder Lotus Elise sound like a V12, and people want that," explains Mr Doyle.
Some manufacturers of silent electric cars are also eager to add sounds to their vehicles, both to make the driving experience more pleasing and to warn off pedestrians who may step into the road if they do not hear them coming.
Sounds developed for electric cars include a "futuristic 'spaceship-ish' noise", grins Mr Doyle.
If all this makes it sound as if Lotus is moving too far away from its roots as a serious sportscar company, fear not.
The anticipated new Esprit is expected to be kitted out with a growling V8 engine.
Related Internet Links
The BBC is not responsible for the content of external sites.