RBS fined £5.6m for anti-terror failings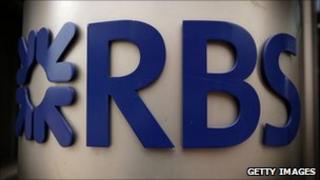 Royal Bank of Scotland (RBS) has been fined £5.6m for failing to ensure that its customers and their transactions were not involved in terrorism.
The Financial Services Authority (FSA) said the fine was the biggest yet for breaking the rules on financial crime.
In 2008, RBS did not check if customers were on sanctions lists, which the FSA said had led to an "unacceptable risk" of it facilitating terrorist financing.
RBS said it had acknowledged its failings and was improving its systems.
Margaret Cole, the FSA's director of enforcement and financial crime, said: "The involvement of UK financial institutions in providing funds, economic resources or financial services to designated persons on the sanctions list undermines the integrity of the UK's financial services sector.
"By failing to screen relevant customers and payments against the Treasury sanctions list, RBS group left itself open to the risk that it was facilitating terrorist financing."
The failure of RBS to obey the rules took place between December 2007 and December 2008, and occurred not only at RBS but also at its subsidiaries NatWest, Ulster Bank and Coutts & Co.
Action taken
Nathan Bostock of RBS said: "It [the FSA investigation] confirmed the deficiencies we had identified and brought to their attention, in our policies, procedures and controls during the year to December 2008, though the FSA noted that it did not consider this misconduct deliberate or reckless.
"We have taken appropriate action to remedy these issues and continue to enhance our control environment," he added.
If the bank had not admitted its failings it would have been fined £8m, the FSA said.
Since 2007 the Treasury has operated a special unit aimed at freezing the assets of organisations such as the Taliban and al-Qaeda, and applying financial sanctions against people and organisations on its list of targets.
The list of those involved in financing terrorism was first drawn up in 2001 in the wake of the 9/11 terror attacks in the US.
A year ago the list contained 1,400 people, about 50 of whom were UK residents, and 500 organisations, 12 of which were based in the UK.
'Significant risk'
The FSA pointed out that the RBS group had, in 2007, handled more foreign payments than any other bank in the UK.
That year it processed £7.6tn of inward euro payments and £8.6tn of outbound ones, covering 1.8 million payments in all.
However, it failed both to screen properly its customers and to check them against the Treasury's list.
The result was that RBS did not scrutinise incoming payments made to its customers. It also failed to study payments in sterling made by customers (other than to US-based banks) and, until June 2008, payments in euros made by customers.
The bank's own security and fraud unit spotted that there were problems but did not act quickly enough.
"The large volume of daily payments meant there was significant risk that attempts to route payments to or from or involving a designated person would be made through RBS," the FSA said.