Supermarket suppliers get new adjudicator for disputes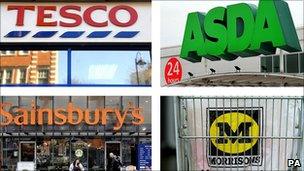 An adjudicator to resolve disputes between supermarkets and their suppliers is to be established under plans announced by the government.
The Groceries Code Adjudicator (GCA) will sit within the Office of Fair Trading (OFT), but will be independent, the government said.
It will investigate complaints from UK and overseas suppliers about the way they are treated by supermarkets.
But retailers argue that shoppers will end up paying for the new body.
The move follows a recommendation from the Competition Commission in 2008.
Following a long-running investigation into the grocery market, it argued that the power of the large supermarkets was having an adverse impact on suppliers and consumers.
The government hopes to have set up the GCA within the next 18 months to two years, the Department for Business, Innovation and Skills told the BBC.
Food suppliers who make complaints will be allowed to remain anonymous.
"We want to make sure that large retailers can't abuse their power by transferring excessive risks or unexpected costs onto their suppliers," said Consumer Minister Edward Davey.
"These sorts of pressures are bad for producers and bad for consumers - ultimately they can lead to lower quality goods, less choice and less innovation."
He said the GCA would "safeguard the consumer interest".
The new body will be funded by the supermarkets.
It will enforce a new code of practice governing relations between grocers and suppliers that came into force in February, called the Groceries Supply Code of Practice.
But one business group dismissed the GCA as an "unnecessary quango" that would increase the price of goods to consumers.
"An adjudicator will just add unnecessary costs," said Stephen Robertson, director general of the British Retail Consortium.
"With an independent budget and no direct reporting line to the OFT or government, this is a quango. Quango's cost. This will reduce the efficiency of the supply chain and customers will pay the price."
The National Farmers' Union (NFU) gave the new body a cautious welcome, saying it should lead to fewer instances of "flagrant bully-boy tactics" by the supermarkets.
It was, however, disappointed that the adjudicator would not be in place until 2012 and that it has fewer powers than the NFU had called for.
NFU President Peter Kendall said he was concerned about how effective the adjudicator's powers to name and shame supermarkets who broke the code would be.
But he added: "I am pleased to see that there are plans to reserve powers to the Minister to introduce fines for breaches of the code if naming and shaming is not sufficient to ensure the supermarkets play ball."
Related Internet Links
The BBC is not responsible for the content of external sites.