Record pension deficit payments made by big firms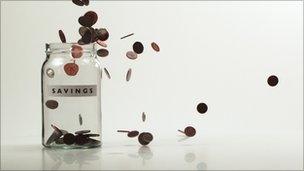 Firms in the FTSE 100 share index paid a record £17.5bn extra into their pension schemes last year to help pay off their accumulated deficits.
The biggest top-up payment of £3.3bn was made by the oil company Shell, with Lloyds Banking Group, RBS and Unilever all paying in more than £1bn extra.
The figures were compiled by the actuaries LCP.
The extra payments and better stock market returns helped reduce total deficits to £51bn from £96bn in 2008.
"Compared to 12 months ago, when we were looking at a deficit [for those companies] of about £100bn, companies are taking the steps necessary and those pension benefits are more secure," said Bob Scott of LCP.
While LCP shows deficits coming down, another report, from actuaries Mercer, says big schemes have also raised their life expectancy assumptions, increasing the demands on pension funds.
An average increase in life expectancy of six months, just in 2009, has added an extra 1.5% to the cost of paying for the accumulated pensions of the scheme members, the firm said.
"FTSE 100 company pension schemes have increased their longevity assumptions for their pensioners for the fourth consecutive year," said Mercer.
"On average, scheme members aged 45 are now expected to live nearly two years longer from retirement than a member currently aged 65," the firm added.
Recovery plans of the sort surveyed by LCP are put in place by employers when their schemes are judged by scheme actuaries to have fallen into deficit.
Firms are required by law to make good the shortfall by making extra annual payments, typically spread over 10 years or so.
With the onset of the economic recession, the pensions regulator made it clear it would not necessarily challenge longer recovery plans, as it has in the past, and some employers have out in place repayment schedules stretching over 15 or even 20 years.
Last week the BBC revealed that the Royal Mail and its pension trustees have suggested a recovery plan lasting 38 years, which is now being investigated by the regulator.
According to LCP, last year's total deficit payments by firms in the FTSE 100 share index were 50% higher than in 2008.
This helped the firms bring down their collective scheme deficits to £51bn in 2009, down from a record £96bn a year earlier.
They were also helped by a strong recovery in investment values following the stock market falls in the year to April 2009.
Although the deficit reduction was "reassuring" for members, LCP partner Bob Scott warned that "such increases in contributions reduce the scope for companies to pay dividends and to invest in their businesses".
LCP says that eight firms paid in more in deficit payments than they paid out in dividends to their shareholders.
Among them were BAE Systems, Lloyds Banking Group, Rolls-Royce and Wolseley.
There has also been a trend towards firms pledging assets other than cash, such as property, to boost the finances of their pension funds.
In the case of the drinks firm Diageo it pledged barrels of maturing whisky, which will be worth £25m a year over 15 years.
Pension deficits are very volatile.
The deficit of all final-salary pension schemes in the UK widened in June, the Pension Protection Fund (PPF) said last month.
The collective shortfall of 6,653 schemes stood at £21.8bn, compared with a surplus of £11.7bn a month earlier.
However that was less than the £149bn deficit a year earlier.
Related Internet Links
The BBC is not responsible for the content of external sites.