Taiwanese computer maker Acer sees profits surge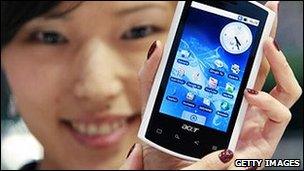 The Taiwanese computer-maker Acer has posted a 57% rise in net profits to 3.6bn Taiwanese dollars ($113m; £70m) during the April to June quarter from a year earlier.
Revenues for the world's third largest computer company rose 26% to $2.7bn during the period.
Acer shares fell 1.6% on Wednesday, ahead of the result.
Credit Suisse predicts Acer's sales growth of 15% during the current quarter from the April to June quarter.
Acer has been using sports sponsorship to grow its brand recognition and is a major sponsor for the 2012 Olympic Games in London.
The deal allows it to use Olympic logos and also covers the 2010 Winter games in Vancouver.
Acer is expected to spend $1bn (£627m) to lease Founder Technology group's brand for seven years after the two companies announced a cooperation plan.
Related Internet Links
The BBC is not responsible for the content of external sites.