Timely results keep Swatch happy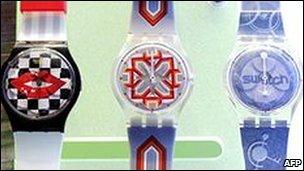 Swatch, the world's largest watchmaker, has reported a 54% increase in profits for the first six months of the year.
Net profit rose to 465 million Swiss francs ($446m; £280m) as sales rose to record levels.
The group makes some of the world's most expensive watches such as Brequet and Omega, as well as the colourful and affordable Swatch brand.
It has weathered the economic downturn largely thanks to its strong position in the fast-growing Chinese market.
Greater China represents approximately 25-30% of the group's sales.
"We do not see what could keep us from achieving record sales and profit in 2010," said chief executive Nick Hayek.
He added however, that he was concerned about volatile exchange rates and a high gold price.
The company, which often reports results ahead of the scheduled date, published the results two weeks earlier than originally planned.
Swatch said it would continue to expand its retail activities globally in the second half of 2010, but that it had to ease capacity bottlenecks in some production areas.
The company appointed Nayla Hayek as chairwoman in June after the death of her father and Swatch founder Nicolas Hayek.
The cheaper plastic watches developed by the group under the Swatch brand helped the industry to compete with the increase in cheap Japanese exports.
The watches' simple design and relatively low prices made them an international success, with an estimated 300 million sold worldwide.
Their popularity also drew attention to the luxury end of the Swiss watch industry.
Related Internet Links
The BBC is not responsible for the content of external sites.