Barnes & Noble shares jump on sale consideration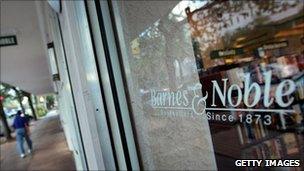 Shares in Barnes & Noble, the largest US bookstore chain, have jumped 20% after it said late on Tuesday it was considering putting itself up for sale.
The chain said it believed its shares were "significantly undervalued".
Founder Leonard Riggio said he might make a bid for the struggling retailer, as part of a wider investor group.
The chain struggled during the downturn as consumers looked to discount bookstores.
Future prospects are also complicated by the emergence of digital books, or so-called e-readers.
The company said it was confident its "iconic brand and unique competitive advantages" would ensure its future success.
But the board said it intends to "evaluate strategic alternatives, including a possible sale of the company, in order to increase stockholder value".
Mr Riggio said he wants to stay at the company whatever the outcome of the evaluation.
"Regardless of whether I participate in an investment group that buys the company, I, as well as the entire senior management team, am willing and eager to remain with the company and see it through the challenging years ahead," he said.
The chain said there was no timetable for the review, and that it may not result in a sale.
Barnes & Noble runs 720 bookshops across the US.
Related Internet Links
The BBC is not responsible for the content of external sites.