Business red tape to get one-in, one-out system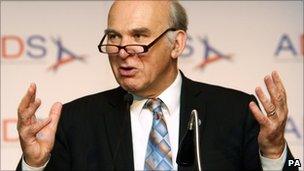 The government has confirmed it plans to introduce a one-in, one-out system for any new regulations that impose costs on businesses.
From September, ministers will have to identify an existing piece of regulation to be removed for every new rule proposed.
In addition, a panel of business experts will scrutinise all new legislation before it is introduced.
It has been claimed that last year regulations cost UK firms £88.3bn.
The new measures will apply initially to UK legislation only.
However, it is estimated that last year a third of the additional regulatory burden came from European Union directives.
The Department for Business said it would take a more "rigorous approach" to EU regulations, including engaging earlier in the Brussels policymaking process.
These moves are part of a package of measures described by Business Secretary Vince Cable as a "fundamental shift" in Whitehall's approach to regulation.
"By ensuring regulation becomes a last resort, we will create an environment that frees business from the burden of red tape, helping to create the right conditions for recovery and growth in the UK economy," Mr Cable said.
The British Chambers of Commerce (BCC), which has long campaigned against red tape, welcomed the changes as they addressed the key area of changing the culture in Whitehall.
"But it is like turning a tanker around," warned BCC economic adviser Steve Hughes.
"We now need to see tangible results over the next six months," he told BBC News.
Proposed new regulation will be subject to independent scrutiny at a much earlier stage, the business department said.
It will be looked at by the Regulatory Policy Committee, an independent panel of experts which includes representatives from Cranfield School of Management, Consumer Focus and the TUC.
They will not be able to veto proposals, but will pass on their assessment to ministers.
"The Regulatory Policy Committee has proved an effective, stand-alone body for holding Departments to account, so measures to strengthen its remit are welcome," said Steve Pointer from engineering employers' group, the EEF.
"However, this must not be at the price of diluting its independence or preventing it from speaking out if its advice is ignored," he said.
Related Internet Links
The BBC is not responsible for the content of external sites.