New car sales see first drop for a year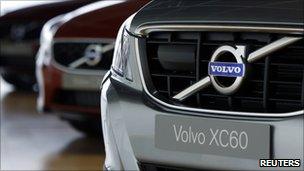 New car sales fell in July, the first drop in a year, the Society of Motor Manufacturers and Traders has said.
New car registrations were 136,446 last month, down 13.2% from a year ago, the trade body said, with the end of the car scrappage scheme and the fragility in the economy blamed.
However, so far this year, new car sales remain 15% higher on the same period last year.
The SMMT said it expected more than two million new cars to be sold in 2010.
Paul Everitt, the SMMT's chief executive, said July's fall was not a surprise.
"A drop in private registrations compared to the scrappage-fuelled months of 2009 was expected," he said.
"Subdued consumer confidence and a still-fragile economic recovery make the outlook for the remainder of 2010 challenging, but a stronger-than-expected first half means full year volumes are still forecast to exceed 2009's total."
The figures also showed that diesel car sales overtook petrol car sales for the first time in July, accounting for 50.6% of the total.
Last year, just under two million new cars were sold in the UK, with the car scrappage scheme significantly boosting sales following its introduction in May.
The scheme came to an end in March this year, and helped to sell at least 330,000 cars.
The SMMT said the outlook for the car industry in 2010 remained "difficult to predict".
Recent falls in consumer confidence could see car sales decline further throughout the year, according to Howard Archer, chief UK economist at IHS Global Insight.
"The more worried that consumers are, the less likely they will be prepared to splash out on as big-ticket an item as a car," he said.
"The substantial fiscal squeeze will increasingly hit public sector jobs and consumers' pockets, while households already face high unemployment, muted earnings growth, elevated debt levels and high fuel prices."
But he added that 2010 car sales could be helped by the planned rise in VAT, due to come into force in January 2011. This could see consumers bring their car purchases forward to beat the rise.
Industry analysts JD Power said the UK market was not the only one feeling the loss of government scrappage schemes.
Across Western Europe, new car sales fell 18.5% in July compared with the same month a year earlier.
Europe's biggest car market, Germany, experienced one of the biggest falls. It sold 100,000 fewer cars last month, a drop of 30.1%.
Only Greece saw a bigger percentage drop - down 62.5% - but its car industry is much smaller.
Amongst the other big producers, Italy experienced a drop of 26.4%, while France saw a fall of 12.9%.
"Challenging economic conditions have done little to help offset the removal of the [scrappage] schemes," the JD Power report added.