Eurozone interest rates kept on hold by ECB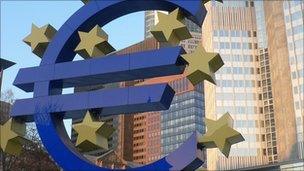 The European Central Bank (ECB) has kept eurozone interest rates on hold at 1%, as had been expected.
It is the 15th month running that rates have stayed at this record low, as the ECB continues to seek to help economies recover from last year's recession.
ECB president Jean-Claude Trichet said that while the eurozone economy was growing, uncertainty remained.
"We continue to expect the euro area economy to grow at a moderate and still uneven rate," he added.
Mr Trichet also said that inflation would remain low into the medium and longer term.
Analysts say eurozone rates need to remain at the current level because governments are cutting back on public spending, which is weakening economic growth.
Deutsche Bank senior European economist Gilles Moec said that while recent eurozone growth figures had been positive, the ECB knows "there are some remaining fragilities and they probably don't want to rush anything at this stage".
These fragilities include high unemployment in countries such as Spain and Greece, and governments' continuing efforts to trim their public deficits.
Consumer spending across the 16 members of the eurozone also remains weak.
The Bank of England earlier kept UK interest rates on hold at 0.5%.
Related Internet Links
The BBC is not responsible for the content of external sites.