Travel refunds: your questions answered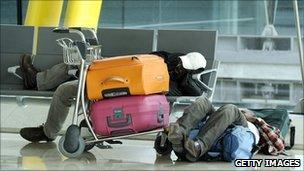 Hundreds of thousands of UK travellers have had their plans disrupted this year.
First came the volcano dust over most of Europe, leaving some people stranded abroad for weeks. Then the Goldtrail tour operator collapsed.
BA was hit by numerous strikes and more have been threatened by staff employed by BAA, which owns some of the UK's biggest airports.
We asked for your questions about claiming compensation if your travel plans had been affected and Sean Tipton, of the travel association Abta has answered them.
Update: three answers in the first published version of this article said air travellers could not claim compensation for delays to their flights.
In fact the law changed in November 2009. The European Court of Justice ruled that air passengers may be able to claim compensation if their flights are delayed for more than three hours, just as if the flights had been cancelled.
The Court's ruling can be read here.
However at the time of writing (August 2010) the UK courts have referred the matter back to the European Court of Justice at the request of UK airlines who oppose the ECJ's judgement.
The opinions expressed are those of the author and are not held by the BBC unless specifically stated. The material is for general information only and does not constitute investment, tax, legal or other form of advice. You should not rely on this information to make (or refrain from making) any decisions. Always obtain independent, professional advice for your own particular situation.
Related Internet Links
The BBC is not responsible for the content of external sites.