Travel refunds: your questions answered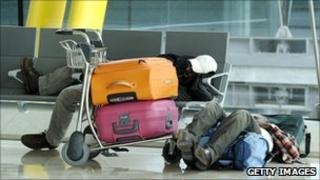 Hundreds of thousands of UK travellers have had their plans disrupted this year.
First came the volcano dust over most of Europe, leaving some people stranded abroad for weeks. Then the Goldtrail tour operator collapsed.
BA was hit by numerous strikes and more have been threatened by staff employed by BAA, which owns some of the UK's biggest airports.
We asked for your questions about claiming compensation if your travel plans had been affected and Sean Tipton, of the travel association Abta has answered them.
Q1. After four months of hassle, phone calls, emails, letters, sending all receipts, our airline assured us that the amount, for the cancelled flight only (not costly return rail travel costs), was refunded to a card number, the last four digits of which were given. However this was not received into our account and the airline will not give any further information on the card number or the account the money went into. How can we pursue this further? Suzanne Freedman, Shoreham by Sea.
Suzanne, logically your airline could only have refunded the amount to the card which was used to make the booking. If you can clearly show this has not occurred then the airline should process a refund through to this account. If you need any further assistance I suggest you contact the Air Transport Users Council on 0207 240 6061.
Q2. I am due to travel to New York on Saturday 28 August. I am unsure how I should be feeling as there is a strike ballot going on with BAA at the moment. Is it really a possibility that all BAA staff could strike, forcing all BAA owned airports to close? Terry Guile, Dunfermline.
Terry, potential strikes are just that, potential. In our experience strikes are generally threatened at the busiest times of year, August bank holiday being a classic example. However this is used as a negotiating tactic and for the vast majority of strikes a settlement is reached and the strikes do not go ahead. The recent British Airways strikes were unusual in that they did go ahead.
Q3. My airline still won't pay me and my family, totalling five people, the 1250 euros compensation for a trip Munich to Manchester cancelled at the last moment. Nor has their luggage repair company provided us with a replacement for the damaged luggage. Three months on it is still "on order." This is nothing to do with volcanoes, but the airline claims "technical issues" constitute extraordinary circumstances. It seems that in trying to get due compensation we are on our own. Should I now proceed to the small claims court? Christopher J Moore, Manchester.
Christopher, the EU regulations on cancellation state that on a flight of up to 1500km if an airline cancels your flight less than 7-14 days prior to departure, unless due to exceptional circumstances, you are due 250 euros per passenger (if the time difference between your original and replacement flight is more than two hours) as well as a replacement or refund of the flight cost. It is debatable whether technical problems should be treated as exceptional circumstances and this may well be something that the small claims court would have to decide on. The process is fairly fast, inexpensive and straightforward.
Q4. Due to Cyprus Turkish Airlines (CTA) suspending their flights as from 17 May, I have been subsequently unable to get any information about our flights on 4 September, from Heathrow. My Visa card will not reimburse me unless CTA is declared insolvent or there is no flight on the 4 September. Norman Wood, Banchory, Scotland.
Norman, the trading status of CTA is still very unclear and this is something both Abta and the Department for Transport are attempting to get the Turkish Authorities to clarify. Technically your card company is correct but if CTA's status is still unclear on 4 September and they do not provide your flight, your card company will re-credit your account either under the terms of the Consumer Credit Act 1974 or Visa's own voluntary policy.
Q5. I am just back from a cruise where the company cancelled three ports of call for no good reason. I checked on the sites of the local port authorities and it seems that the ship was never booked in as promised. Can I make a claim on this basis for the selling of a holiday that the company never intended to fulfil? Ian Brockett, Glasgow.
Ian, without knowing all the details of this case I would not like to make a categorical statement on this. However this does sound like the basis for a possible claim against the cruise company but there may well also be a valid explanation for this as well.
Q6. Hiring a car in France I was charged for fuel at the airport, and found this out only when I came back from the holiday. I just received an invoice for 85.84 euros or £73.83. I filled the car one hour before dropping it off in Bordeaux airport. I had three extra people with me who can confirm that the fuel tank for the car was full. When we spoke with the car hire employee he confirmed that everything is OK and nothing will be charged. However he kept all paperwork in his hands and nothing was given to me. Natalia Vedernikova, Chester.
Natalia, unfortunately without paperwork to prove the tank was full this is a case of your word against the car hire company's. You are always entitled to documentary proof, so insist. However it is still worth taking this up with the car hire company.
Q7. I was delayed 12 days by the ash cloud problem in April. I contacted my airline about the delay from New York to Heathrow and they said they would like to assist me with my additional expenses. At their request I submitted the receipts I had (in May), sending them off to their customer relations department. Since then I have heard nothing. Charles Shaw, Hampshire.
Charles, unfortunately the Ash cloud has resulted in significant delays refunding customers with out of pocket expenses. I can only suggest you wait a little longer but if you still haven't heard anything forward them copies of your correspondence.
Q8. Will I have the same consumer protection with a "top-up" credit card when booking a holiday or flight with a travel company and it unfortunately goes bust, either while I'm away or before I travel? Gary Neill, Belfast.
Gary, I presume by top-up you mean a prepaid card. In which case no, you will not. Credit cards are governed by the Consumer Credit Act of 1974 which states credit card companies must refund if a service is not provided. The key word though is "credit" - prepaid and debit cards are not covered by this law.
Q9. I purchased flights using an online travel company and was under the impression I was flying on a Continental flight. I chose to take my bicycle as hold luggage and Continental advised on their website that they wouldn't charge a fee to carry it. When I checked in, I was advised that the flight was actually a shared service and that it was run by United - I wasn't charged for the outbound leg. However, on the return flight we had to check in at the United desk (who were the carriers again, not Continental). United advised that it would cost $200 to check my bicycle into the hold, which I had no option, but to pay. Can I claim this back from the online travel firm? Gavin Davies, Bristol.
Gavin, this is classic example of a code share which you should have been told about at the time of booking so I would suggest that you do take this up with the company you booked with.
Q10. If you are travelling independently do you still have the same rights as someone on a package holiday? Bob, Rotherham.
Bob, you have considerably more rights and protection if you book packages which are governed by the Package Travel Regulations of 1992. These oblige tour operators to offer financial protection meaning you will be refunded if they go out of business and they are also legally responsible for all aspects of the package they provide. This means if something goes wrong you can take it up with the tour operator rather than a foreign supplier.
Q11. We had booked a holiday through an online travel agent for two weeks in August. They had then booked the flights with Goldtrail and the accommodation via another tour operator. When Goldtrail went we weren't offered any support or advice from our point of contact - the travel agent. When we did finally get through to them we were offered new accommodation dates (but for three days earlier) at £1,000 extra, which we rejected. Surely it's the responsibility of the travel agent to advise us of our options when a company fails (Goldtrail), rather than us having to spend over a fortnight re-arranging all our plans at additional cost? Simon Landi, Manchester.
Simon, I would agree that it is good customer service to help you re-book in a circumstance like this. It may be that the agent concerned had a lot of customers in your position and didn't manage to deal with them all, though this would be an explanation not an excuse.
Update: three answers in the first published version of this article said air travellers could not claim compensation for delays to their flights.
In fact the law changed in November 2009. The European Court of Justice ruled that air passengers may be able to claim compensation if their flights are delayed for more than three hours, just as if the flights had been cancelled.
The Court's ruling can be read here.
However at the time of writing (August 2010) the UK courts have referred the matter back to the European Court of Justice at the request of UK airlines who oppose the ECJ's judgement.
The opinions expressed are those of the author and are not held by the BBC unless specifically stated. The material is for general information only and does not constitute investment, tax, legal or other form of advice. You should not rely on this information to make (or refrain from making) any decisions. Always obtain independent, professional advice for your own particular situation.