House prices starting to fall, say surveyors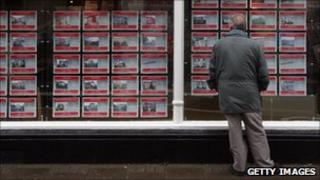 House prices are starting to fall, the Royal Institution of Chartered Surveyors (Rics) has said.
Most surveyors had seen no change in the past three months, but those seeing a fall in prices outnumbered those reporting a rise.
It was the first time since July last year that the monthly survey has detected a downturn.
Separate figures showed that growth in UK retail sales slowed sharply in July on fears about government cuts.
The British Retail Consortium said like-for-like sales, which strip out the impact of sales from new stores, rose by 0.5% in the month compared with a 1.2% rise in June.
"After some months of stability within the retail sector, these data are a warning signal that things could be about to take a turn for the worse," said Neil Saunders at research group Verdict.
'Realistic pricing'
Rics said more homes were being put up for sale, while inquiries from new buyers had fallen for the second month.
Buyers were finding it hard to get a mortgage, while fear of unemployment was putting off others, Rics added.
"The fall in the Rics house price measure [in July] is broadly consistent with most other recent data that has been released," said Rics spokesman Ian Perry.
"Significantly, the forward-looking price expectations numbers suggest that this softer trend will continue through the second half of the year.
"However, agents are still generally optimistic about sales activity, which should benefit from more realistic pricing of properties," he added.
Slowing down
The recent cooling of house prices has been confirmed by the government's own house price index, published by the Department for Communities and Local Government (DCLG).
It shows that seasonally adjusted average prices were unchanged across the UK in June. This cut the annual rate of increase to 9.9%, from 10.6% in May.
"UK house prices rose by 0.8% in the quarter to June 2010 compared to an increase of 2.8% in the March quarter," the DCLG said.
In the past year, the DCLG figures show that all parts of the UK have seen prices increase, except for Northern Ireland where they have fallen by 8%.
London saw the biggest increases in that time, with values up by 15%.
Expectations 'negative'
The Rics survey was based on questions to only 242 surveyors around the UK, who also work as estate agents, but the Rics report has traditionally had its finger on the pulse of the property market.
While 64% of those surveyed had not seen any change in local house prices during the preceding three months, those who had seen rises - 11% - were outnumbered by the 25% who had seen prices drop.
Recent surveys from both the Halifax and the Nationwide have also shown that the upturn in house prices, which started in the spring of 2009, has been cooling off.
That rise had been driven largely by a shortage of homes being put up for sale, but now the balance of supply and demand has reversed.
Rics said its members expect the downward pressure on prices to continue.
"Expectations for house price increases have also turned negative, with 28% more surveyors expecting prices to fall over the coming months," Rics said.