China reports slowing import growth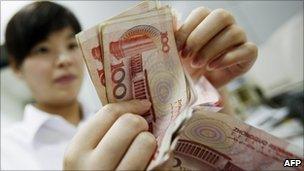 China's import growth slowed in July, which economists are seeing as a sign that the country's rapid economic expansion is cooling.
Imports climbed by 22.7% compared with a year ago to $116.8bn, well below the 53% expansion seen in June.
However, exports rose by 38.1%, from June's 35.2%, as China's trade surplus increased.
There are worries that if China's demand for imports slows it could hinder the global economic recovery.
China's appetite for goods from overseas has eased as Beijing has taken steps to try to prevent the economy overheating - including clamping down on a boom in bank lending and construction.
Official figures out last month suggested that its economy grew at an annual pace of 11.9% in the first quarter of 2010, slowing to 10.3% between April and June.
The growth in exports, to $145.5bn, suggested that demand for its goods - from electronics to textiles - was seeing little impact from the European debt crisis and weak recovery in the US.
Observers said that China's trade surplus ballooning to $28.7bn was likely to intensify pressure on Beijing to strengthen its currency, the yuan.
"In the US we still have unemployment close to 10% and data out later this week will likely show another huge trade deficit of more than $40bn," said Brian Jackson, a senior analyst at Royal Bank of Canada in Hong Kong.
"This contrast in the trade position of the two most important economies in the world will likely increase the pressure from Washington for Beijing to allow further currency appreciation."
Meanwhile, other figures showed that China's housing prices held steady in July compared with the previous month.
In April, the government introduced restrictions on lending to deflate a potential bubble in housing prices.
The government's tightening of credit included limits on mortgage lending for second homes and demands for higher deposits.
Property values in 70 Chinese cities in July were unchanged from June's figures, although the prices were up 10.3% on the previous year
The government had taken action after house prices in April jumped 12.8% year-on-year - the biggest increase since the government began issuing house price data in July 2005.