How can credit reference agencies catch benefit cheats?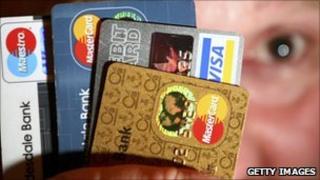 Prime Minister David Cameron has said credit reference agencies could be used to crack down on benefit fraud.
But what information do these agencies hold and how could it be used?
What are credit reference agencies?
Credit reference agencies are commercial companies that compile information from a number of different sources.
They sell this information to lenders and other service providers in the form of credit reports which help them to decide whether to grant an application for a loan, credit card, or provide another financial product.
There are three major credit reference agencies in the UK - Experian, Equifax and CallCredit.
But governments - both local and central - also have access to the information in some circumstances, and this use looks set to be extended.
What data is held on you?
Each credit reference agency gathers different information and so provides a different credit report.
Key information held includes your name, date of birth, address and previous addresses.
Some of the data held is in the public domain - for example whether or not you are on the electoral roll, any county court judgements against you and whether you have been declared bankrupt.
Then there is information shared by companies - including banks and building societies, car loan firms and mobile phone companies.
That data includes credit applications (attempts you have made to get credit, whether or not they were successful), lenders you have dealt with, credit limits you have and whether you have made payments correctly and on time.
It will also show details of credit card balances and repayments and sometimes bank account balances - but not transactional details such as the specifics of what you have been buying.
Allowing firms to share this kind of information with third parties is usually a condition of applying for loans, credit or other services.
Your record also usually shows when someone, including yourself, has carried out a credit check on you.
Who can access this information?
You can see your full credit report - and all three agencies allow you to do this, either for free or for a small fee.
Lenders can, of course, access the data when judging your creditworthiness.
The "public" information can also be seen by landlords and potential employers - though you must authorise this.
And while access is protected under the Data Protection Act, the police and government departments can also request to see information held about you.
However the "non-public domain" information can only be accessed if the authority can show there is a suspicion of someone being involved in money laundering or another financial crime such as fraud.
How are governments and local authorities already using this kind of information?
All three major UK agencies already have contracts with both central and local government - which they say has saved tens of millions of pounds in welfare payments.
A common use for the data has been for benefits claimed on the grounds of living alone, for example the single person discount claimed on council tax.
Authorities can run checks on those receiving that benefit, and reference agencies will flag up when other people are also linked with that address - perhaps through bank accounts, mobile phone bills or simply the electoral roll. Further investigations can then be made.
"We can say with a degree of certainty, whether there is somebody else living at a particular address," said CallCredit's Owen Roberts.
He added other data could also help identify other potential frauds - for example, if somebody who claimed to have no capital was holding substantial savings, or if a benefit claimant had moved abroad.
Experian has a project to detect fraud in housing benefit and council tax benefit claims - which it says has been so successful it is being rolled out to all 380 local authorities in the UK.
A spokesman said the firm looked for "commonalities in applications".
"People sometimes make multiple applications for these benefits, and while they might use different names, some of the other information will be the same, so we're data matching and highlighting cases for possible investigation."
Using similar technology, Experian is already working with HM Revenue and Customs to confirm the identity of applicants for tax credits. It says that "early indications suggest it is creating a serious stumbling block for both professional and opportunistic fraud attempts".
These kind of trawl searches do not draw on credit information - but more limited data such as addresses.
However, if there is a serious suspicion that a specific person is committing benefit fraud or another crime - perhaps following a tip-off - then authorities can request access to more detailed credit reports to strengthen (or indeed weaken) their case.
How else could the data held by agencies be used?
It is understood that the government wants to be pro-active and have credit checks carried out on all new benefits applicants.
Applying for benefit would involve agreeing that this information could be examined at the time of application.
"What's important is that people are notified at that stage. It has got to be transparent," said Neil Munroe, external affairs director at Equifax. "Then nobody can be surprised if that data is used."
"There will be more up-front checking because it's easier to prevent fraud at that stage than to identify it later and then try to recoup the money."
However, he admitted it was a difficult and politically sensitive issue.
"People have a right to benefits and the government will have to work out how they handle those applications where there's a suspicion of attempted fraud."
Experian appears to be the biggest player in this market - which it estimates could prevent £1bn of fraud a year.
It is in talks to use its data to identify potential fraudsters claiming incapacity benefit and social housing tenancy fraud.
Although it will not give further details, it is thought measures could involve identifying people whose lifestyles do not match up with their claimed circumstances - for example, by looking at credit card use and repayments.
What about privacy issues?
All the agencies stress that they are are bound by data protection legislation and that this is very strictly adhered to.
And given private firms such as lenders can get access to such information, the government argues there is no reason it should not be able to draw on such data.
To get access to more detailed records, central government and local authorities must show that they have a reason to suspect somebody is fraudulently claiming a benefit.
"It's not a case of giving unfettered access to our databases to let government departments snoop on what they want," said Mr Munroe at Equifax.
He added there had been "difficult conversations" with government departments over the sort of information that would be made available.
"This is not Big Brother," he said. "It's for the benefit of society and I think 99% of people will be comfortable with it when they understand it."
How will credit reference agencies be rewarded?
The companies were coy about how they would be paid for the work.
One of the agency's bosses told the BBC it depended "how hard a bargain the government could drive".
But some reports say they firms will be paid by results - leading one newspaper to brand the agencies as "bounty hunters".
It is possible payment would be in the form of a percentage of fraudulent claims recovered.
Given that Mr Cameron says that £1.5bn of the welfare budget is lost to fraudulent claims for tax credit and welfare, the potential rewards are high - even if firms receive a tiny proportion of money recouped.