Chinese industrial growth slows again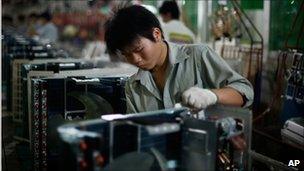 Chinese industrial growth slowed again in July, adding to data suggesting that the country's economy is cooling.
Factory output was up 13.4% from July 2009, but this was the fifth consecutive month the annual pace had slowed and the lowest rate of 2010.
Retail sales and factory investment also eased, the National Bureau of Statistics said.
It comes after Beijing has cut stimulus measures, closed inefficient factories and curbed bank lending.
"This tells us economic growth is continuing to slow," said economist Zhu Jianfang of Citic Securities in Beijing.
"If they don't make changes, the economy will see a danger of further sliding."
Separate figures showed that Chinese inflation accelerated in July, as floods destroyed crops and disrupted transport routes, driving up food prices.
Inflation as measured by the consumer price index reached 3.3% last month compared with 2.9% in June, the National Bureau of Statistics said.
Earlier this week, figures showed that China's import growth had slowed in July, which economists had seen as a sign that the country's rapid economic expansion was cooling.
However, exports rose by 38.1%, from June's 35.2%, as China's trade surplus increased.
There are worries that if China's demand for imports slows it could hinder the global economic recovery.
Official figures out last month suggested that China's economy grew at an annual pace of 11.9% in the first quarter of 2010, slowing to 10.3% between April and June.