World markets drop on US economy fears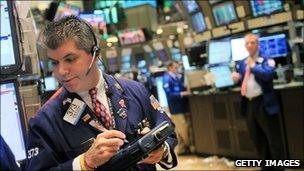 World stock markets have tumbled as investors worry about the health of the US economy after the Federal Reserve warned that the recovery was likely to be "more modest" in the short term.
The Dow Jones finished 265 points lower while European markets closed down 2%.
On Tuesday, the Fed said it would keep up its efforts to try to bolster the economy amid signs the recovery was weaker than expected.
Separately, data showed the US trade deficit rose to a 20-month high.
The Commerce Department said the deficit widened to $49.9bn (£31.9bn) in June, which surprised economists who were expecting a smaller trade gap.
The expansion of the gap to its widest level in almost two years reflected a rise in imports from China and a decline in exports.
Meanwhile, the Treasury Department said the US budget deficit - the difference between the government's income and its spending - in the first 10 months of the fiscal year stands at $1.17 trillion, down from last year's 10-month deficit of $1.27tn.
The Obama administration, however, still expects the deficit for the full year to surpass last year's record imbalance of $1.42tn.
Earlier, Asian markets had set the tone for traders elsewhere by falling, with news that China's industrial growth slowed further in July also hitting sentiment.
Japan's Nikkei 225 index closed 2.7% lower at 9,293, while Hong Kong's Hang Seng index shed 179 points to close at 21,294.
In Europe, leading share indexes in London, Paris and Frankfurt all closed down by more than 2%.
On Wall Street, the Dow Jones recorded its biggest loss in six weeks, falling 2.5% to 10,378, with all 30 components losing ground.
The Standard & Poor's 500 also fell 2.8%, while the technology-based Nasdaq shed 3%.
The Fed's assessment of the US economy also put more pressure on the dollar, which hit a 15-year low against the yen.
The US currency fell to 84.73 yen, the lowest level since 5 July 1995, before it later pulled back to stand at 85.36 yen.
But the pound weakened against the dollar after the Bank of England warned that the UK faced "a choppy recovery" and downgraded its growth forecasts.
Analysts said the Bank's Inflation Report suggested that interest rates were likely to remain low for some time.
Related Internet Links
The BBC is not responsible for the content of external sites.