De La Rue chief quits over banknote production problems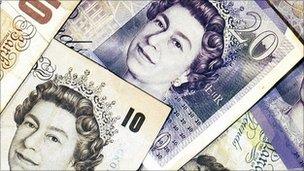 The chief executive of banknote printer De La Rue has quit after the firm said sales would be affected by quality problems, sending its shares down 10%.
De La Rue said sales in both 2010 and 2011 would be "materially lower" after it halted production at a paper factory for failing to meet quality standards.
The UK company has yet to name a replacement for James Hussey, who only took over the top job last year.
De La Rue prints notes for the Bank of England and 150 other countries.
However, it said currency printing would be unaffected by the problems.
The paper factory in question is located in Hampshire, where the company also has its headquarters. Production at the facility was suspended on 21 July.
Shares in the firm closed down 82.5 pence or 10.4% to 730p in London. They had been as much as 13% lower earlier in the day.
De La Rue said in a statement that Mr Hussey believed "he must take responsibility" for the production problems.
It added: "The company continues to look into these irregularities in one of its paper production facilities, which the board considers to be of a serious nature."
It said the problems related to the testing of paper quality and did not involve any issue with either the physical security of the facility, or that of the paper produced.
Analyst Paul Jones of Panmure Gordon said he remained "concerned that the reputational damage may be ongoing both operationally and in stock market terms".
Mr Hussey, 48, had worked for De La Rue for 25 years in total, including four years as head of the security paper and print division at the centre of the current quality problems.
In addition to banknotes, the firm produces passports, and the holograms fitted to most bank and credit cards.
It also makes cash sorting machines and authentication labels.
The company employs about 4,000 people across 24 countries.
Related Internet Links
The BBC is not responsible for the content of external sites.